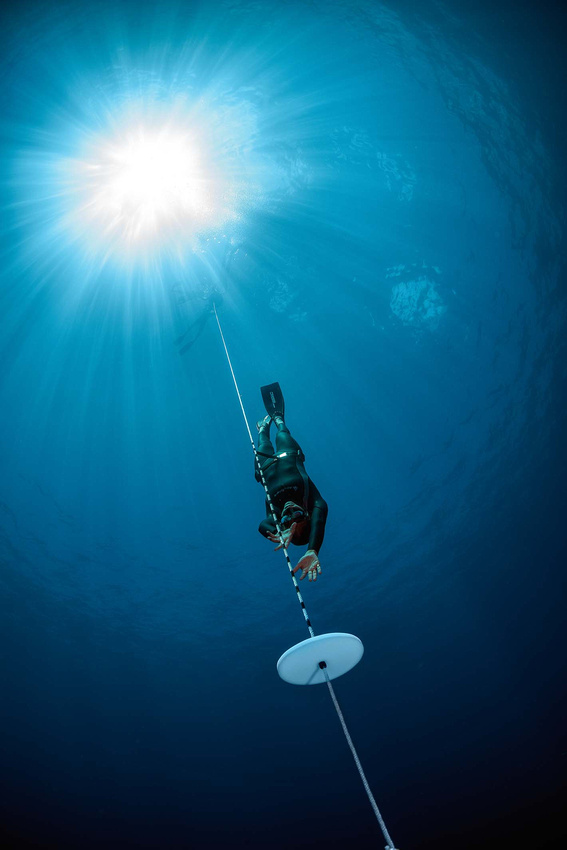 Want to model underwater? Cool, let's do a shoot where you have to hold your breath (no scuba), then swim to 50 feet (with perfect freediving form), without rushing (because I need time to compose and shoot), then leisurely return to the surface like you do it every day.
Doesn't sound easy, does it? That's why it was a joy shooting champion freediver Liz Parkinson, who does do this every day — well, practically every day. If you know anything about modern freediving, no, 50 feet isn't that deep for a moderately experienced freediver. Admittedly, for Liz, it's a milk run . . . uh, well, it would have been, except I had her to do it again and again. And again. And one more time. Make it two, but we need to go 20 feet deeper. . .
To her credit, Liz freedived dozens of times over a week for stills and video last August, with near perfect technique for every skill we needed to image, staying exactly in the light we needed her in. She made it look easy, without one complaint. When she wasn't diving for camera, she was coordinating the other models, paying attention to safety issues, wrangling sharks . . . well, it's a long list.
This frame is a popular favorite — and hey, we made the cover. So, thanks, Liz — and everyone else who modeled on that shoot.