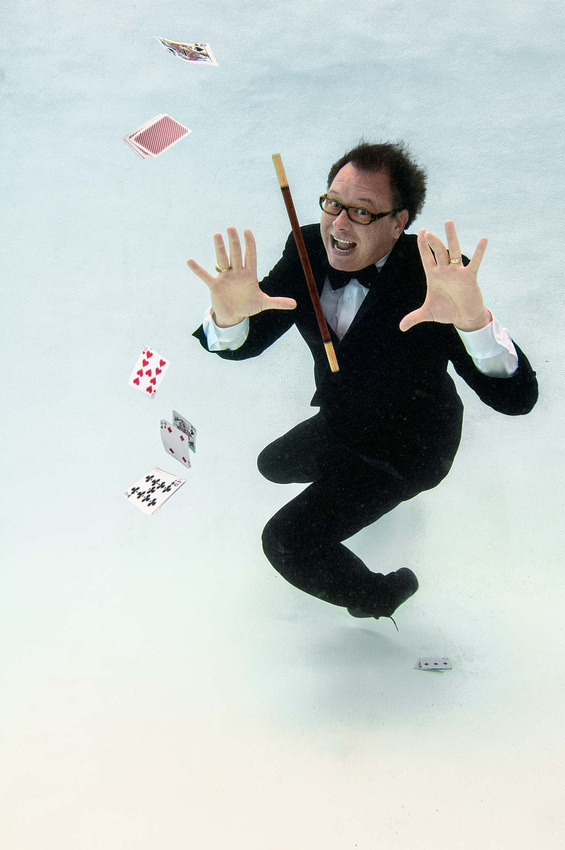 One of the most frequent requests I get is to shoot underwater models and portraits who are not scuba divers -- like this one of professional magician Scott Tokar. To get this shot, we were 12 feet deep and he's fully dressed, holding his breath. Besides me, there are two underwater photo assistants supporting (check out this behind scenes image).
These types of underwater portraits and fashion are harder than they look for the subject/model. There's a lot more to it than sinking to the bottom of a pool for a moment while I snap-snap-snap. Forty years ago, underwater photos impressed people just because they were underwater. Today, even snapshooters take cameras underwater, so it's not enough if you want a striking image. Someone who can't pose effectively doesn't give me anything to work with, and that's the start point in imaging. Scott, who is both a professional photographer and experienced PADI Rescue Diver, shows what it takes:
1. Comfort in water. You have be to be completely and relaxed with your ability to hold your breath, swim and work in water. Being a scuba diver is helpful, but not necessary (I have photographed many talented models who were not divers). Scott can easily hold his breath and pose for 30 seconds, which doesn't include the time to get to the pose and to return to the surface or a scuba air supply to breathe. Notice that his mouth is open? He's not freaked out by letting water in it.
2. Eyes open. Scott's eyes are not only open, but they are wide open and they look just like they do if he weren't underwater. Many people squint or don't open them at all -- just doesn't work for imaging.
3. Playing to camera. Scott's cheeks aren't puffed out and he's playing to camera. He's expressive, giving us something interesting to see. He's using appropriate props and wardrobe. These are especially critical for this type imaging because the bottom of a pool is sterile and boring -- it's all him or we don't have anything worth looking at.
4. Using the environment. Scott's feet are off the bottom, with his wand and cards suspended in the water. There's no point in going underwater and then creating an image that doesn't differ from what you could take on dry land. Scott uses the water to give me a portrait that would take a lot of planning and Photoshop work out of the water.
Think you have what it takes? If so, let's give it a go.