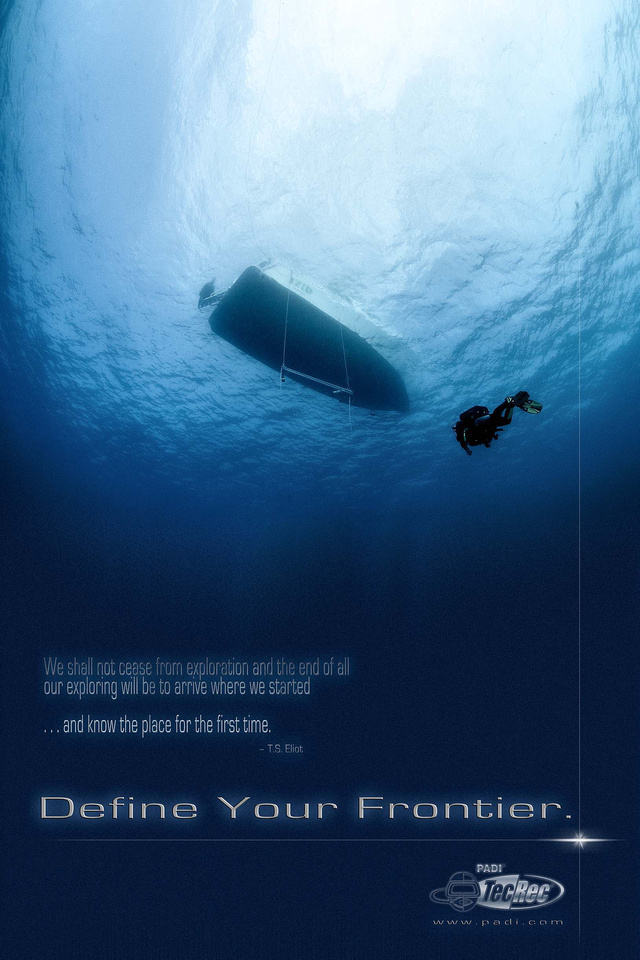 Copyright PADI 2012
One of a professional photographer's jobs is to help you see things, but often it's also to help you feel things. When I shoot something that has the potential to do this, I enjoy working with it to maximize its effect -- in this case, by creating a poster for the PADI TecRec course series. These are courses that teach tec diving -- if you're not a diver, think "extreme" sport diving that goes deeper and uses more hardware than mainstream recreational diving. Recreational diving has well-established limits, whereas due to its nature, tec divers must (to some extent) explore and create personal limits -- hence "define your frontier."
Any tec diver will tell you that when you ascend from a long and/or deep dive, there's a moment when you look up and the surface seems to reach down, welcoming you home. If you're dealing with a problem, nearing the surface obviously reassures you, but the sense of "coming home" is there even on the most rewarding, perfectly executed, trouble-free adventures. It's the sense that you more fully appreciate the warm sun and fresh air that God gave us after you've been where both are very far away.
To me, this image of my friend Roz ascending to the dive boat captures this moment, and T.S. Eliot's eloquence expresses what I hope you feel.